About Us
We, Continental Belting Pvt. Ltd., are an ISO 9001:2005 certified firm with great expertise in the domain of producing Conveyor Belts. We have become industrial leader all across the world through the quality of our work. Being a responsible manufacturer and exporter since 1997, we have been enhancing the quality standards of General Duty Conveyor Belts, Bucket Elevators, Sidewall Conveyor Belting, Vulcanizing Solutions and Fire Resistant Conveyor Belts from time to time. Recalled for their high efficiency, smooth performance and various other features, our offerings have made our firm an epitome of success & prosperity at the global level.
Industries We Serve
Our business has grown to become a resourceful part for distinct sectors. The number of companies associated with us on global levels are from the sectors such as Agro, Cement, Coking, Fertilizer Chemicals, Airline, Foundries, Glass and many more. The factor that enables the retention of our day-one customers is our offered quality and, that is why various more industries that we serve with our range of General Duty Conveyor Belts, Fire Resistant Conveyor Belts, Sidewall Conveyor Belting, Vulcanizing Solutions and Bucket Elevators, continues with names like Power, Ginning, Iron & Steel, Mining and Ports.
Global Trade

In the business since 1997, CBPL have grown to become a renowned name in global trading for a variety of qualitative Conveyor Belts. The clientele network we have built in this period is from:
Australia/NZ
Indian Subcontinent
North & South America
Caribbean
East Europe
East Asia
East/Middle Africa
South/West Africa
North Africa
For the flawless deliveries, our logistic department works responsibly with sea, air or on the road shipment.
Our Team/Management
Managing Director Mr. Deepak Chandra holds B.Tech degree from IIT, Kharagpur. He represents India on the ISO Panes, relating to conveyor belting. And, he is a great mentor to our team of professionals & technicians.

Director (Marketing & Sales) Mr. Rohit Arora holds Masters degree in Business Management. Along with his Techno-Commercial background, he is responsibly providing guidance to various departmental teams.

Our team of 100 trained professionals is a great strength to our organizational processes and business management. This team is made up of professionals from distinct fields who work under one shed with co-ordination and quality control.
Technology & Infrastructure
At our units & branches located in Mumbai (Maharashtra, India), we are able to maintain a continuous production & supply of finest grade conveyor belts. In our infrastructural facilities, we contain latest machinery, equipment & tools and have installed ERP systems. Our workshops are installed with state-of-the-art Vulcanizing presses, Handling systems, Calendars, Mixing mills, etc. With the help of all this, we are able to conveniently pull out the highest grade of Bucket Elevators, Fire Resistant Conveyor Belts, Sidewall Conveyor Belting, Vulcanizing Solutions and General Duty Conveyor Belts.
Our Clients
Some of the names associated with our company includes Bateman, FLSmidth, LT, TRF, Elecon, Ldesche, Scorpio, etc. We believe in maintaining trust & faith of our prestigious clients so that, we can keep working for them for an everlasting time. The transparency, mutual respect and professionalism plays vital role in customer satisfaction and retention.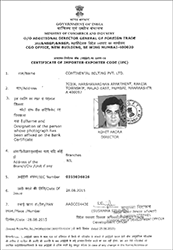 Read More